This pack is made for Minecraft version 1.19+
Ever wanted to play Minecraft music on-demand? With this resource pack, you can play Minecraft's music in-game using a custom interface!
To open the Music Player screen, click on the small note button on the start or pause screens.

The songs are categorised into their albums, dimensions, type etc: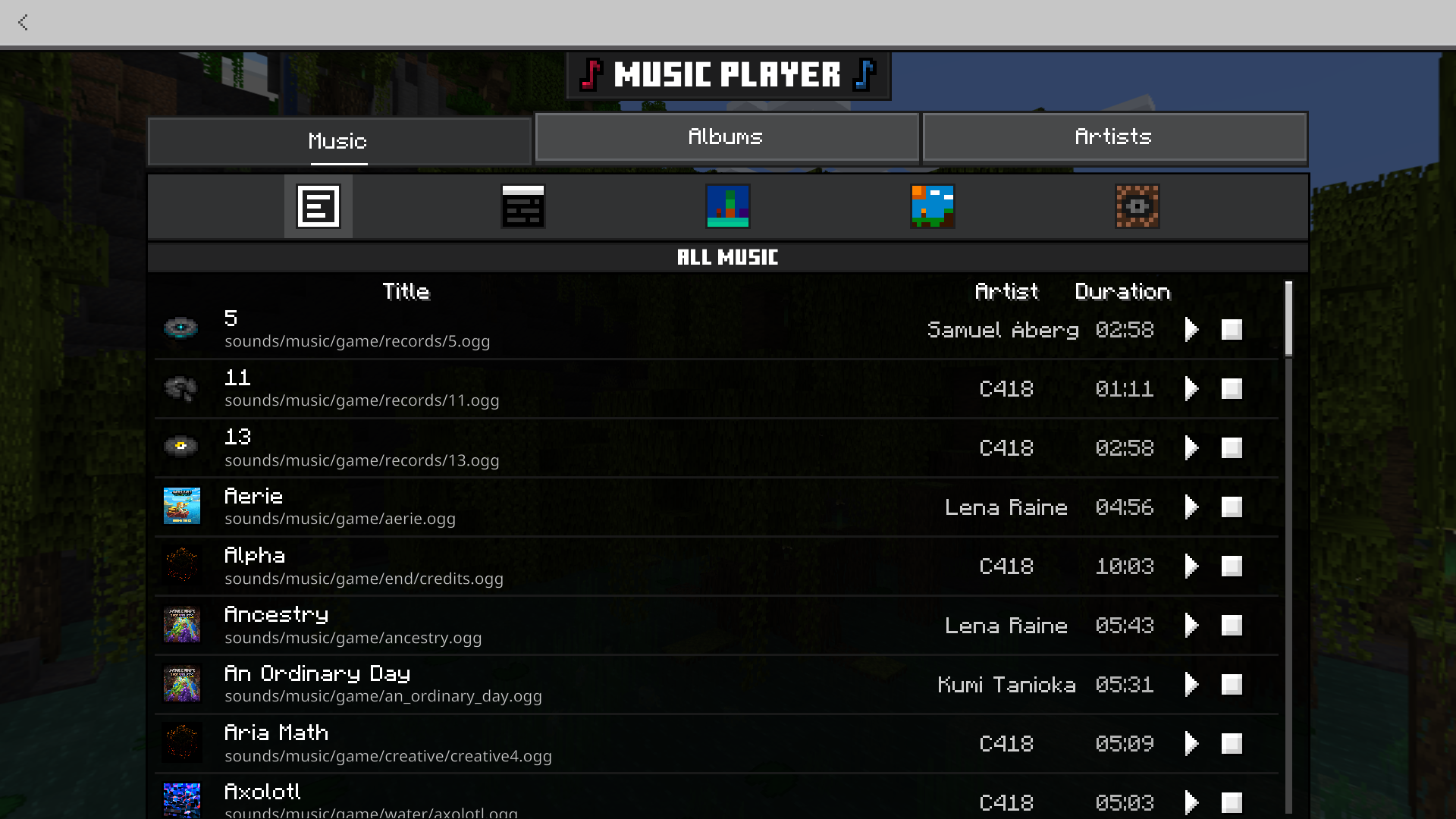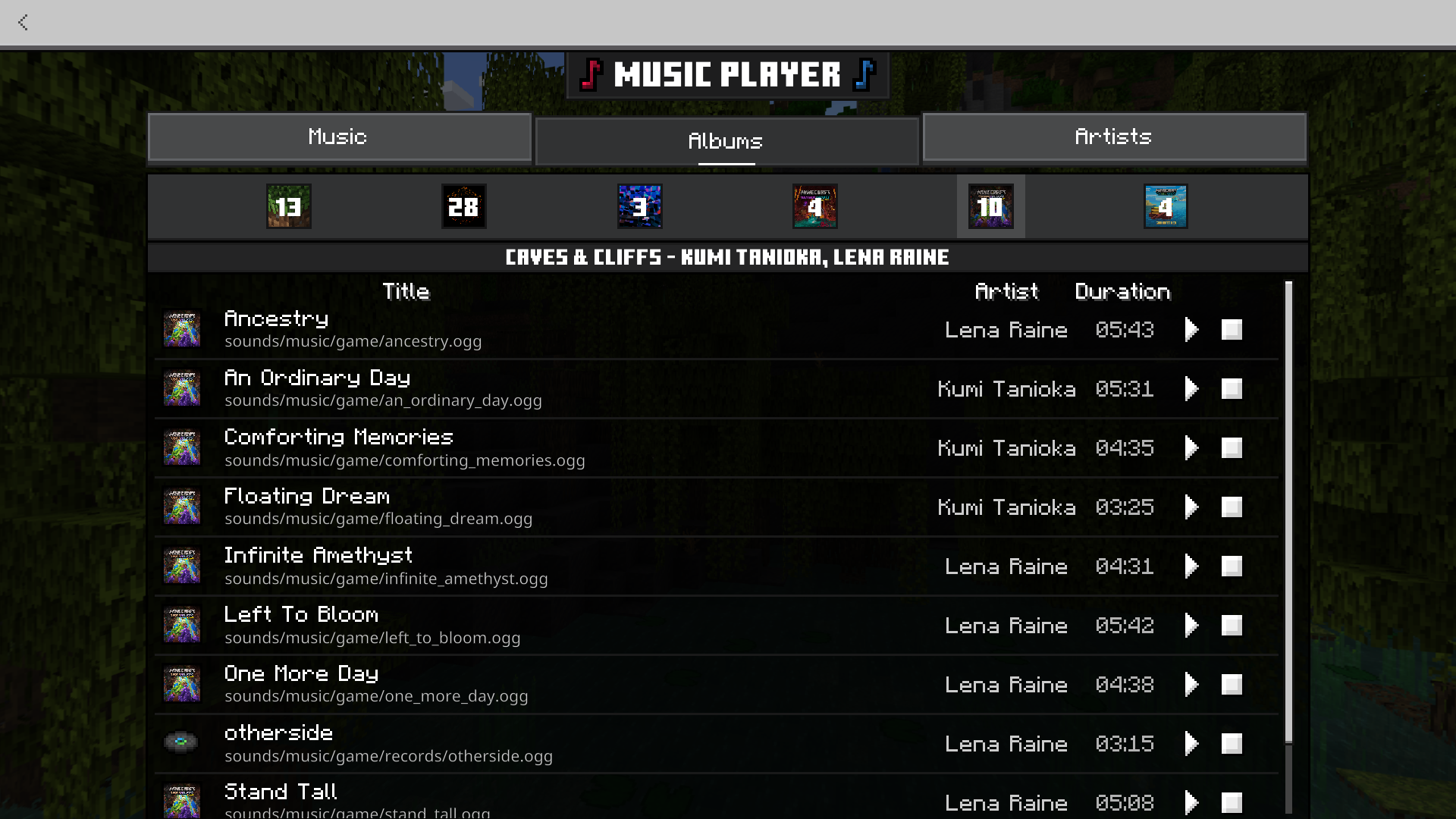 The pack also includes artist descriptions!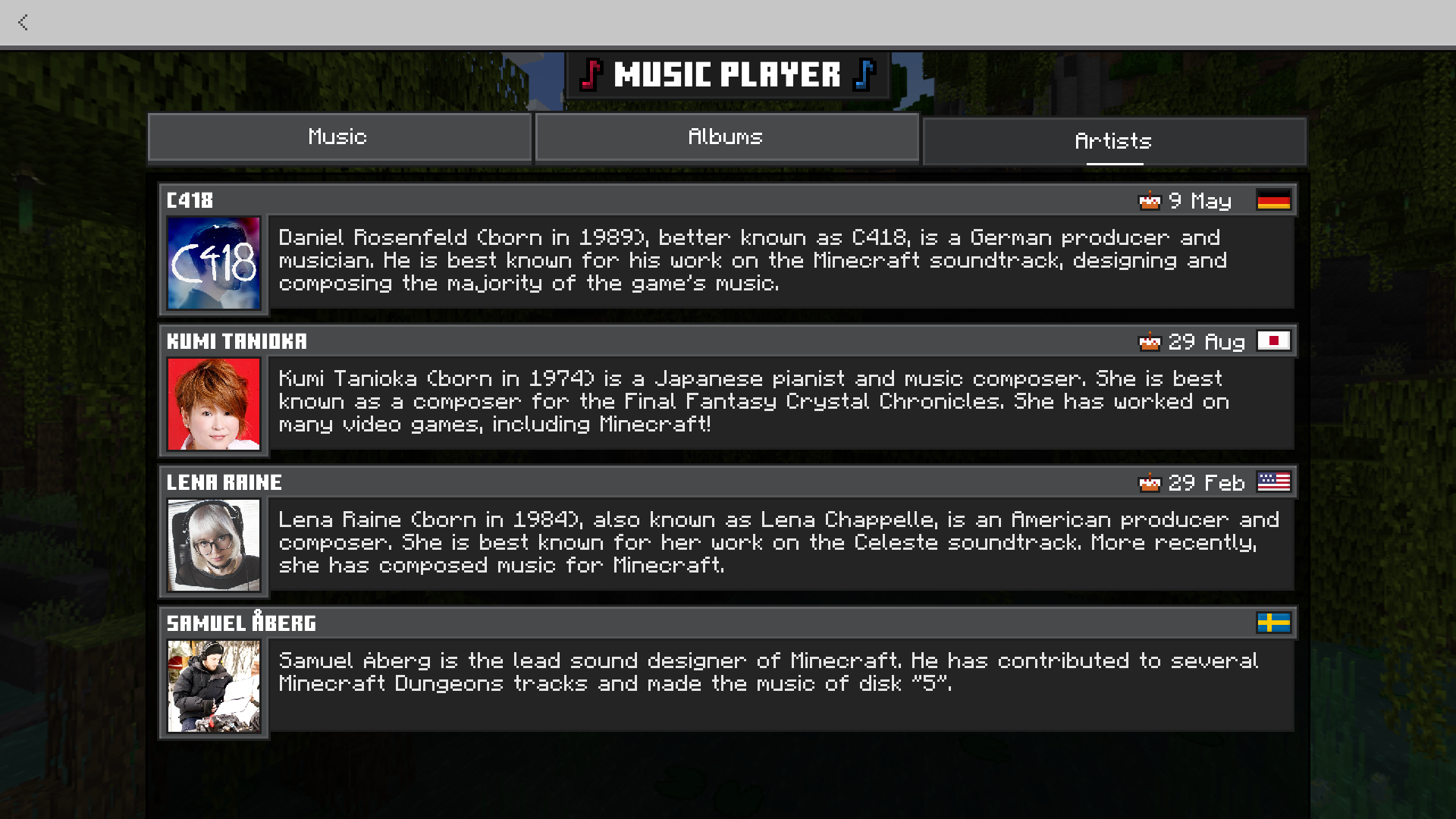 Controller and keyboard-only navigation is supported

All Music Player music's volume is controlled by the 'Sound' settings sound slider.

To play a song, click the play button next to the music's duration.
Music won't stop playing if you exit the UI, to stop it, press the square stop icon on the song.
Music will only be played for the person who clicks play. The music won't fade away if you go far from where it started playing.
---
NOTE: Players on iOS, Android and FireOS need to get the free Minecraft Original Music Pack from the Marketplace to hear music.
Does an update add new music? This pack will be updated!
You may use the code in this pack to learn, but must not copy directly.
This pack can be included in any maps as long as credit is clearly given.
---
Want to add custom music?
Follow this tutorial to utilise the 10 pre-added custom songs!
Custom Music Tutorial
---
Changelog:
v1.1.0
Redesigned artist cards
Added artist birthdays
Added artist flags
Altered music player note icons' colours
v1.2.0
Improved controller and keyboard-only navigation
Added controller hints to the main tabs
Replaced tabs in the "Music" and "Albums" sections with a new icon-based header navigation
Added 5 music category icons
Altered several textures
v1.3.0 (Wild Update)
Added track count on album tabs
Added "The Wild Update" album
Added "Firebugs", "Aerie" and "Labyrinthine" by Lena Raine
Added "5" by Samuel Åberg
Updated "Caves & Cliffs" album's cover image
Added previously unused "Ancestry" by Lena Raine to "Caves & Cliffs" album
Added artist card for Samuel Åberg
Altered title panel, note icon colours and Music Player button textures
Removed unused tab code
v1.3.1 (Wild Update)
"Ancestry" now plays correctly