This add-on adds 17 new pillar blocks. The pillars, and their names, can be seen below:
Andesite Pillar
Basalt Pillar
Calcite Pillar
Dark Prismarine Pillar
Deepslate Pillar
Diorite Pillar
Granite Pillar
Quartz Pillar
Stone Pillar
Sandstone Pillar
Red Sandstone Pillar
Polished Blackstone Pillar
Prismarine Pillar
Tuff Pillar
Netherrack Pillar
Purpur Pillar
End Stone Pillar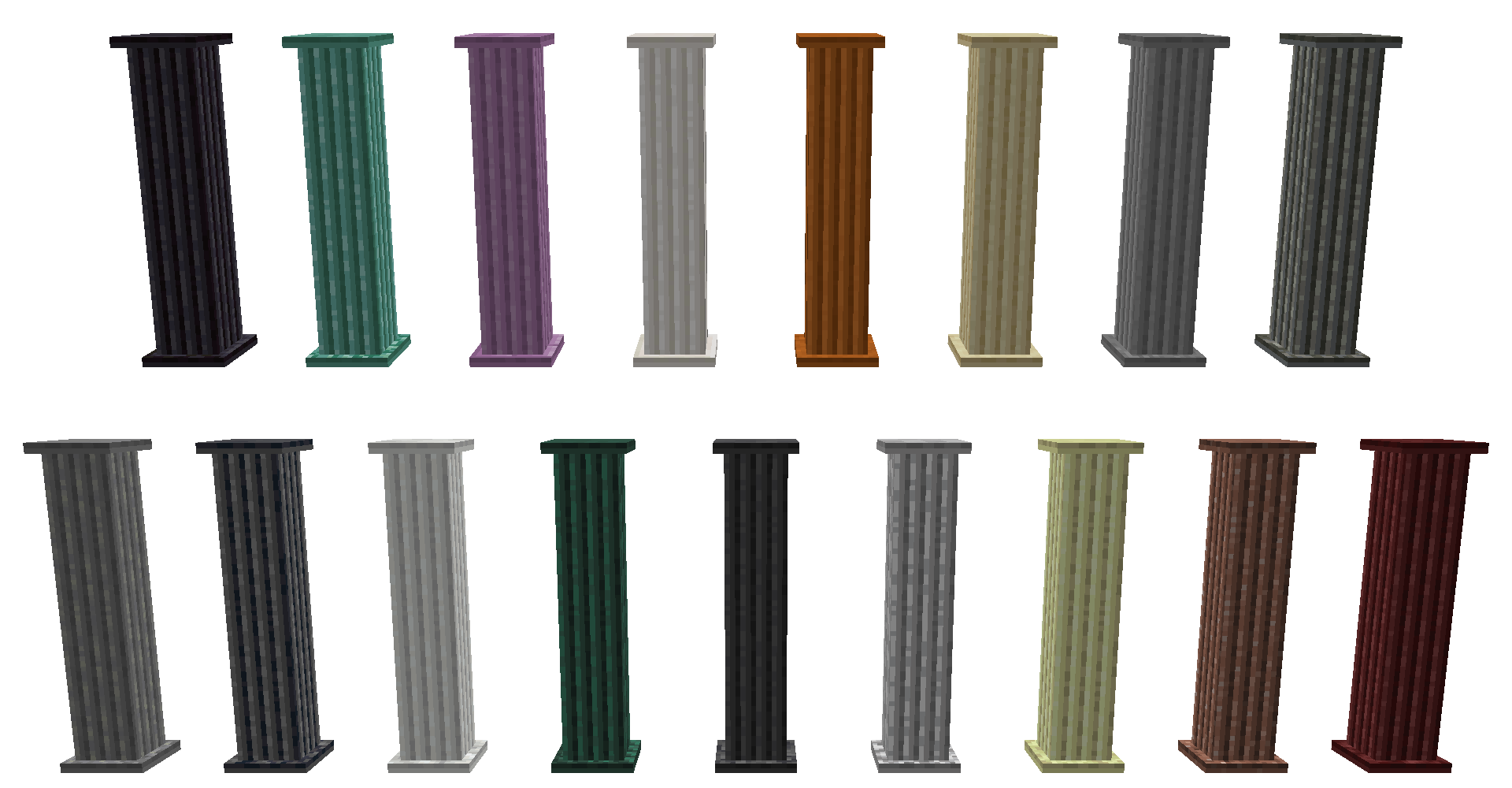 You can also combine the materials in your pillar!

To obtain the pillars, put the material of pillar that you want in a stonecutter.

---
WARNING: Mining the pillars using Silk Touch will result in a block that you can't place. The pillar blocks do not work as intended when destroyed while playing in creative mode.
The 'Holiday creator features' experimental toggle must be active for this pack to function.

You may use the code in this pack to learn, but must not copy directly.
This pack can be included in any maps as long as credit is clearly given.
---
Changelog:
v1.1.0
Added Sandstone Pillar
Added Red Sandstone Pillar
Added Polished Blackstone Pillar
v1.1.1
Andesite Pillars now drop the correct item when destroyed
v2.0.0
Added Basalt Pillar
Added Calcite Pillar
Added Dark Prismarine Pillar
Added Prismarine Pillar
Added Tuff Pillar
Added Netherrack Pillar
Added Purpur Pillar
Added End Stone Pillar
v2.1.0
Changed the translation strings for pillars to tile.pillar.*.name
v2.2.0
Pillars now appear in the creative menu and recipe book
---